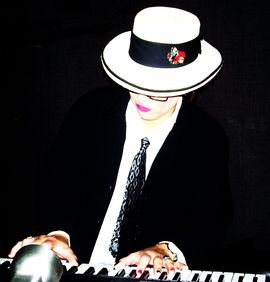 Lenore Troia is a singer, pianist, songwriter, arranger, producer, band leader and DJ. Originally hailing from the northeastern part of the US, she spent many years as an entertainer in the Florida Keys and Key West where she is known for her many original songs and CDs.  She is currently performing in the metro Detroit, MI area for General Motors events as well as many other area venues including hotels and resorts, piano bars, jazz clubs, and private events.
Lenores music has achieved international recognition and has been featured over her lifetime in radio/television media, books and magazines including the New York Times, Fodors'Travel, Newsweek Television, MTV, Jazz Times, Miami Herald, and a variety of Trop Rock and Smooth Jazz stations.
As a director of club bands, cabaret productions and private and corporate events, Lenore has journeyed through many musical circles. She is an accomplished musician, arranger and producer specializing in music computer programming.  Her impressive song collection is the reflection of a musical experience that has traveled many miles!
She is as much at home simply entertaining solo with her piano and voice as she is with a full stage band."She has a strong stage presence and can obviously adapt her repertoire to any performing environment." Shirley Barnes, "Virginia Progress".
 Island Time with DJ DK wrote about Lenores "Symptoms of Love" CD: "This is my favorite Lenore Troia CD yet! I love the jazzy feel on this one. Top notch musicianship and Lenore's great vocals make for a lovely tropical jazz trip!" DK, Island Time WBAC 88.3FM The Sting 
Lenores' cover of the James Taylor classic "Don't Let Me Be Lonely Tonight" appeared in the top ten  on Broadjams "Smooth Jazz" chart ...
Lenores' original song "Symptoms of Love" appeared in the top ten on CD Baby's "Love Songs" chart ...
Here is an excerpt from the international  "JAZZ TIMES" magazine review where Lenore Troia performed live at the Gardens Hotel in Key West (Video).... and Lenore live in Key West (Video)
"With a tropical and Brazilian flair, Troia blended Jobim tunes and standards with her clever originals which included "Sand Dancing," "Symptoms of Love" and "Point Me South I-95." There was also a spirited jazz cover of The Doobie Brothers' "Takin' it to the Streets." Ken Franckling, JAZZ TIMES
Please read some of Lenores' client testimonials below: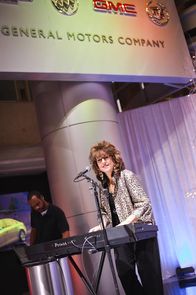 Photo by Todd LLoyd                           
Testimonials
"Our events are packed with hundreds of people, all ages, from across the globe. Lenore's talents, professionalism and versatility, have made her a perfect fit with us, for years. She can play the keyboard like a classical pianist, or rev it up with music mixes that sound like a five piece live band! An exceptional entertainer for absolutely any occasion!" General Motors Executive Events, Detroit, MI
"Lenore Troia Awesome Musician 5 Stars" The Knot: Lenore Troia was recommended to us by a friend who lives in KW. We checked out her website and listened to her music on line.  She is amazing and really kept the reception going. We danced and had so much with her at our reception. She plays at several hotels in KW and also has several CD's. All of our guests thought she was great and we were very pleased. If you like her music you will love her live"Annette L
"Lenore Troia, I want to thank you for making my sisters 50th birthday celebration the best ever. You're special musical touch had everybody on the dance floor. The entertainment was second to none!" Karen Miller, Gowanie Gold Club, Mount Clemens, MI 
"You were able to reach/touch all that were in attendance and had on hand all music that was requested...I had great comments from my customers...I appreciate your professionalism as well as your friendliness toward my clientele...we look forward to your return!" Shawn Szkubiel. Owner of Clear Lake Resort Bar, West Branch, MI 
About Lenores' performance:"It was excellent and the residents have been talking about it all day today! Perhaps we could schedule another performance...the residents enjoyed your performance so much!" Monica Szydlowski, Director of Social Engagement, All Seasons of West Bloomfield, MI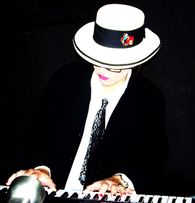 Photo by Kathy Adair
"Lenore, YOU ABSOLUTELY ROCK!!! We Were so pleased to have you for Vik's 50th Birthday Party!" Sandy Chwierut, Travel Manager at Robert Bosch LLC, Detroit, MI 
"You are phenomenal! It is an honor and a pleasure to have met you that night you let me "sit in" with your group that night in Key West. " Monica Chapman, vocalist, Toronto, Canada 
"Thank you so much for making my 50th birthday party so spectacular! I don't believe it would've been nearly as fun without your talent and natural charisma with the audience." Janet Canning, Saint Clair Shores, MI
"Lenore's talents both on the keyboard and piano provide a musical flare that grabs your heart and soul! Evie Valdes, Key West, FL 
"Lenore, just wanted you to know you brought tears to my eyes last night! It was so nice to see you again and to hear the music that we all love so much." Pamela Kunz, Fort Myers, FL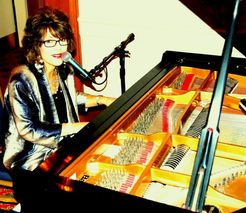 Photo by Cynthia Abbs
"Tonight I heard you for the first time on Jango (internet radio station). I now have a new favorite female vocalist. I informed my wife your CDs are now on my Christmas list. Thanks for the great music!" Doug Dressler, internet radio listener, USA 
"You just topped our evening off last night...You go girl!!! Had a very enjoyable evening. Thanks for the Great Performance!" Terry and Erika Gaberdiel, Military Veteran, Key West, FL 
"Just wanted to say I think you are absolutely fab. Theresa and I just adore you. Lots of love..." Susan Rebac, Cocoa, FL 
"We have been coming to Key West for quite a few years, and when you are there we always come to see you perform. We have always loved all of your music....please consider coming to our home town"... Glenn Poshudel, Kevin Rupp, Denver, CO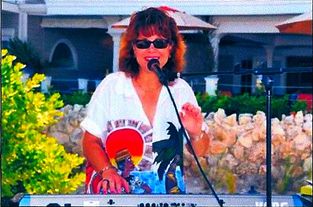 Photo by Peter Arnow
Lenore is always looking forward to her next musical adventure. Let her share her exceptional talent with you!